I am feeling blessed today. No specific reason, because it's actually been a really tough couple of weeks, but today I just feel lucky and happy.
I made it to the final 5 in a Parenting Blog Post competition on SA Mom Blogs. I am so overwhelmingly proud of this, particularly when I look at my competition. How amazing to be going up against such established and adored bloggers! Even though I don't have the numbers to win it, just being there has made my year! If you have a blog, I would love and appreciate it forever if you voted for me.
Guys, I finished editing my first professional book this week! I can't even begin to express how proud I am of this and how truly blessed I feel to have achieved this personal milestone this year. I have been editing for years – theses, articles, client work, even my grandfather's memoirs – but none of that is quite the same as doing a book for someone who found me through my professional profile on LinkedIn.
This year I became a work-from-home-mom; a lifelong dream. Yes, I started working for myself from home last year already; but this year I've managed to keep my standard of work up for my main client, while taking on this book editing project, with no sleep and while raising an exclusively breastfed (won't take a bottle or anything else), very active, only sleeps on mommy beautiful baby girl! This feels like something I should celebrate!
It's almost Christmas! Anyone who knows me, knows that this is my favourite time of year. It's family, fun, love, magic and I get to spoil everybody I love – and I spoil them awesomely, just ask Takealot who has made more deliveries for me alone than they have the rest of Cape Town combined. Cassey tells me gift giving is my love language, that sounds about right to me. I just love buying people ALL THE THINGS! Especially all the things they would never buy themselves, and that includes if their reasoning is cost. The cost of something is irrelevant to me; if the gift is PERFECT for somebody, it doesn't matter to me if it cost R10 or R1000; sadly for my bank balance. The corollary is true as well, if I can tell that you have chosen or created something just for me, I don't care if it's made from scrap or diamonds.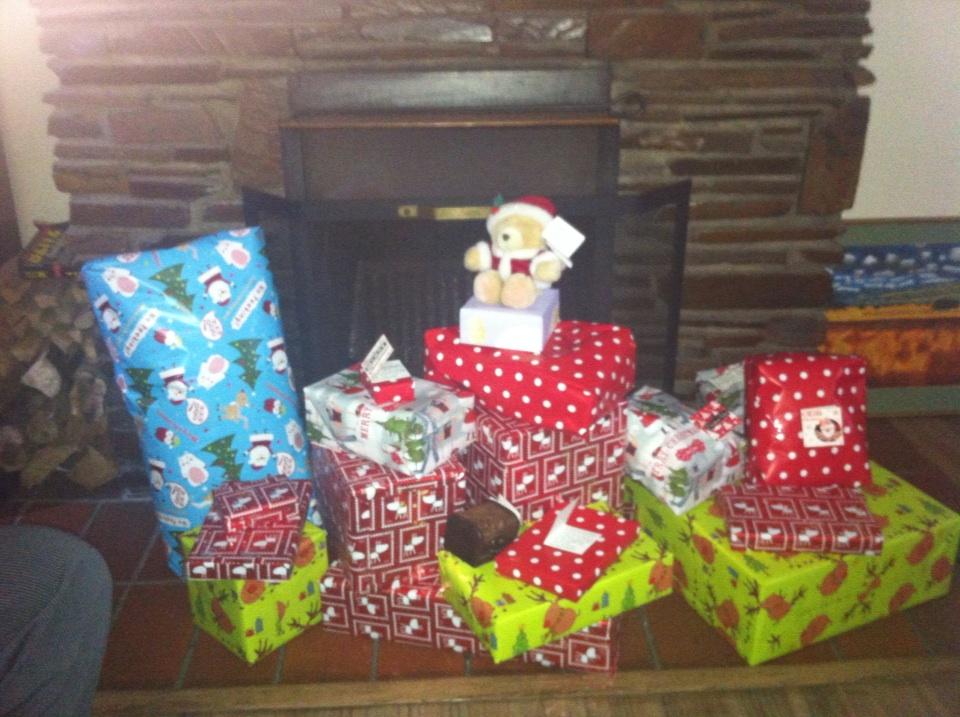 Last Sunday we had a "Christmas" braai with a group of girls I used to work with and their other halves. You know how when you leave a job, you swear you will stay in touch and see each other all the time? You know how that never actually happens? Well, this time it did. Four of the girls I worked with at my last job have become very special people in our lives, having seen me through my pregnancy and the craziness of raising C. We have a monthly dinner and at least 3 of them make it here every month; and we tell work war stories from the past and the present, we support and love each other without reservation. I am so grateful and blessed with these wonderful women!
Although Charly has been sick, making her sleep erratic at best; there has definitely been a shift in her general sleeping patterns. She is now having nights where she has at least one 2.5hr stretch, and has even had a couple of 3 and 4 hour stretches! That may not be cause to celebrate for some; but for me, I see and feel the difference to 90 minute wake ups. The one thing that "the no-cry sleep solution" stresses is that small improvements are movement in the right direction and unlike the CIO method, your kid won't start sleeping through overnight.
As of today, I have also shifted her to two naps a day with 3 hour awake stretches; this week has been the first time she's ever fought a third nap so rather than fight it, I'm going to build it into her schedule in a way that works with the rest of her day. Overall, when it comes to her routines and her sleep, I'm feeling tentatively positive that we are heading in the right direction.
Charly was also 10 months old this week! Can you believe that?! She's almost 1!!!! She's growing and learning so beautifully, and in most places ahead of the curve (that I know we are meant to ignore).
We won a My Smart Kid box from the awesome Robyn at Memoirs for my Munchkins – the first thing I've ever won in my life (squeeeeeee) – and, of course, I sat and went through the book of milestones and happily ticked off most of them up to 12 months and a fair number up to 18 months. Because C hasn't been well, I haven't really gotten to take photos of her with the MSK stuff, though she adores the backpack most of all and spent an inordinate amount of time packing the blocks in and out of the box.
One more week of work for me; sadly C being sick destroyed my being ahead of schedule and left me just "on schedule". By my estimate, I should be all done on Thursday and I can finally begin my month-long break; well, as much of a break as us mommies get. And I SO need it! This has been one incredible, and incredibly challenging, year. I am so tired and am thoroughly looking forward to a whole month where my mind can rest, even if my body can't.
And Brett has 2 weeks off! So I'm also hoping we get to do some family firsts, like setting up Cs swimming pool and taking her to the beach for the first time. Not to mention – my baby's first CHRISTMAS!!! We decorated our tree last weekend, and this weekend the Christmas bunting goes up too. And tomorrow we are off to my parents to decorate the big family tree for our big family Christmas!
I hope you are feeling a little bit of the holiday cheer or that, at least, the holidays are in sight for you!
One sad note; my heart is aching for those of you who have lost a loved one this year, especially close to the holidays, and in fact at any time. There have been far too many losses and far too much pain around. I wish I could give you the gift of peace or the feeling of wholeness whose absence is so accentuated at this time of year. I am sending you and your families all the love.